Escape from the stresses of daily life at Marina Bay Spa and Lifestyle Club!


Going to spas has been a long time hobby of mine. I enjoy it as it helps me unwind and relax after a long day at work. I've tried different ones; most of the time, I would go to cheap, more affordable spas, but I also enjoy splurging on more expensive ones on occasions. I'm always looking for that overall experience, and to tell you the truth, in the many years I have been going to spas, I haven't found the perfect place for me.. until I discovered
Marina Bay Spa and Lifestyle Club
.
Marina Bay Spa and Lifestyle Club is located at the Esplanade Seaside Terminal along Seaside Boulevard in Pasay City. Since it's far from where I live, I really wanted to visit it on a Sunday, just to avoid the traffic (otherwise it would've taken me at least two hours to get there). Luckily, my friends agreed.
We all met up at Marina Bay, where we got to tour the entire facility and see all the amenities the spa has to offer - including the ones that are exclusive for members. This comes with free use of the Relaxing Lounge, Ganban'yoku (Hot Stone Spa), Cold and Hot Bath Spa, Sauna and Steam room, Fitness Studio, and Gym, as well as exclusive access to the Sunset View Deck, Gaming Lounge, KTV Rooms, and Conference Rooms.
Relaxing Lounge
Ganban'yoku (Hot Stone Spa)
Cold and Hot Bath Spa
Sauna
Body Scrub Area
Deck Area for Foot and Hand Services
Fitness Studio
Gym
Infinity Pool and Sunset View Deck
Gaming Lounge
KTV Rooms
Conference Rooms
I really love the fact that the pool is overlooking Manila Bay. It's the same view you'll see at the gym.. not too shabby, right? Aside from that, the sunset deck would make for a great party venue as well as the gaming lounge! For those living near the area, I feel like signing up for a membership is a steal. I mean, if you're signed up with a different gym, that will cost about Php 2,000 per month, so Php 24,000 per year. A Pearl Membership at Marina Bay costs Php 90,000 a year and that already includes all these plus Php 15,000 worth of consumable spa services and 10% off on all massage services. If you want exclusivity and really enjoy getting massages like I do (and have the budget for it), why not, right?
Unfortunately, I don't have the budget needed, so I'm quite content with just coming here from time to time to spoil myself. I've visited Marina Bay twice since they opened a few months ago and so far, so good. Here's how my experience went:
First thing's first. Once you arrive at Marina Bay, they'll have you sit down (maybe offer you some drinks) as you wait. Once you pick your service, they lead you to the locker area where you can leave your things while you shower or change for the Cold and Hot Spa.
The desk by the women's locker room where you can get your robe and towel
Locker Room (P.S. This is a photo of the men's locker room haha)
Squeezing in some selfies with Princess, Aly, and Bea!
Women's Restroom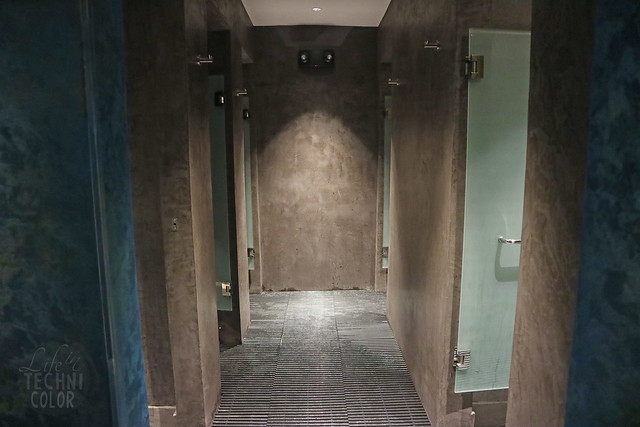 Women's Shower Area
I definitely enjoyed the Cold and Hot Spa! It's the perfect place to chill right before your massage!
Princess and I opted to eat after showering because we were already hungry. Marina Bay recommends you come an hour before your massage appointment to enjoy the Hot/Cold Spa first and the buffet, last. It's still up to you though.
Go crazy at the buffet! My favorite? The congee station!
For the massage, I went with the
Marina Signature Massage
-
a signature massage that originated from over years of practiced massage techniques. Its effectiveness is ensured by beginning with strokes that de-stresses you from the depths of your muscle folds then it moves on to the calming strokes
. Price: Php 1,500 (60 minutes); Php 2,000 (90 minutes); Php 2,500 (120 minutes). This already includes access to the locker rooms, shower, cold and hot spa, and buffet.
A few days before the new year, I came back to Marina Bay and convinced Tim to try it with me. He went with the Marina Signature Massage, while I opted for something with harder pressure - the
Sports Massage
.
It's a powerful massage designed to alleviate deep-seated tension and muscular stress. Perfect for active and athletic individuals; deep manipulations relieve aches, discomfort, and aid the natural healing process.
Price: Php 1,500 (60 minutes); Php 2,000 (90 minutes); Php 2,500 (120 minutes). I enjoyed this SO MUCH! I mean, I'm not a sporty person; I haven't even gone to the gym in a while, but this one was perfect for me since I always have
lamig sa katawan
(not exactly sure how to translate this in English). My therapist Ems used her arms and elbows which made it really painful at times, but it was the good kind of pain - the kind I always look for when I get a massage. I felt really light afterwards, like all the tension disappeared from my body. Two thumbs up for Ems!! Thank you!
So yeah, the Php 1,500 I paid was definitely worth it! If you're planning to pay Marina Bay Spa and Lifestyle Club a visit, here's all the info you'll be needing:
For more information, visit
https://www.marinabayspa.com/
-
For more new discoveries, like and follow Life in Technicolor on Facebook and Instagram!