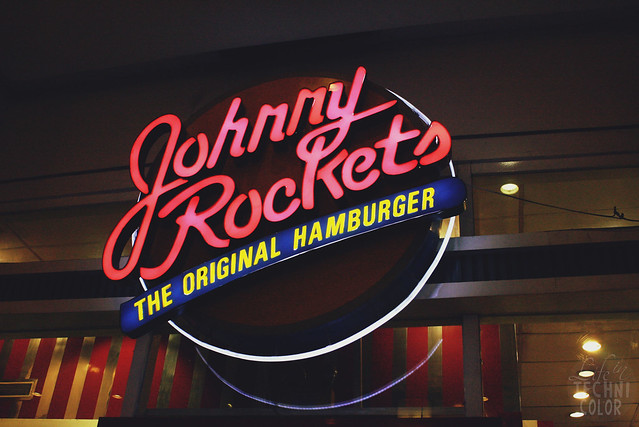 Not really sure how I feel about this one since I'm not a huge fan of burgers, but it felt more
overpriced
than
original
to me.
My family and I don't normally have burgers for dinner, but when we decided to spend our New Year's Eve at Eastwood, we didn't expect every restaurant to be packed. Due to the New Year countdown celebration (with Sarah Geronimo performing), there was a huge crowd that night and we found it difficult to find a table anywhere. So we pretty much took the first available table we saw and had our dinner there. Unfortunately for me, it was at
Johnny Rockets
.
I'll share with you what we ordered and let you be the judge. :)
Garden Salad
(P285)
Crisp romaine and iceberd lettuce with ripe tomatoes, grated cheddar cheese & choice of dressing. Add a scoop of tuna salad for P100 or egg salad for P75.
Chili Bowl
(P320)
Johnny Rockets' exclusive all-meat recipe... with Sky Flakes on the side
Onion Rings (P220)
The Original
(P280)
Fresh lettuce, ripe tomato, chopped onions, relish, pickle, mustard & mayonnaise
St. Louis
(P390)
Thick bacon, Swiss cheese, grilled onions, fresh lettuce, pickle & our "St. Louis" sauce
We also ordered their
Salted Caramel Deluxe Shake
(P275). It was deliciously thick and creamy, though still pretty expensive. It's filling, that's for sure.
-
Have any burger joints you'd like to recommend? Please comment below!