My biggest hair transformation to date!
The results were great. But months later, my dark roots started to become quite visible. Rather than retouching my hair, I decided to do something entirely different.
You see, ever since that whole gray hair trend, I've been curious as to how it would look on me. Would I be able to rock it? So I googled "gray balayage on dark hair" and picked these two as my peg.
I wanted something cool but not over the top, so I thought these might just be perfect. Also, since these aren't overly styled, I was able to imagine how they would look like on my straight hair.
The process started with Crismark bleaching my hair. It was the first time I've ever had my hair bleached and I'm glad I went with ombre, otherwise, it would've been painful for my scalp (burns and all). Only the lower half of my hair needed to be bleached, while the top was to be kept black.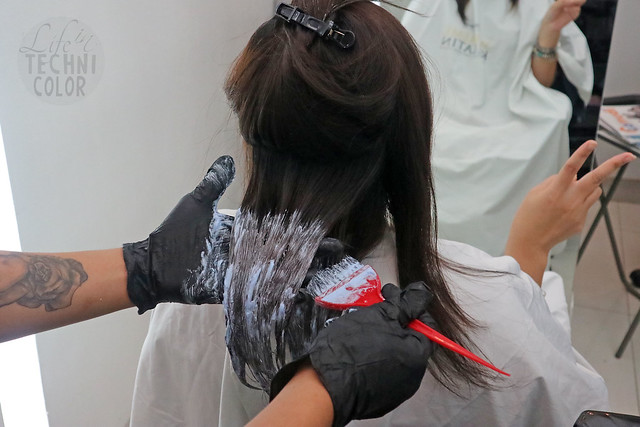 My hair actually had to be bleached four times. Five would've been best, but Ms. Grace, the stylist, thought my hair would end up too damaged after the fifth one. So four it is.
Lucky for me, I have thick hair, otherwise it wouldn't have been able to endure all that bleaching.
Washing it out actually took more than four hours, so I really appreciated that they have free wifi and drinks available for all their clients!
Along with that bleaching, my hair had to be washed a couple of times as well. Good thing their shampoo chairs were really comfortable! I experienced no neck discomfort at all; in fact, I looked forward to every single time I had to have my hair washed!
Finally, it was time to get my hair dyed!
This part didn't take very long. And since I still had time to spare, I decided to squeeze in a quick haircut and treatment in there as well.
Here's the final look!
What do you think?
I also put together the before and after looks for reference :)
I'm actually really satisfied with my new hair. Though it may not look exactly like my pegs (mainly because my hair couldn't do one more round of bleaching), I think it suits me quite nicely.

Cost breakdown:
Wash out / Bleaching : P900 x 4 = P3,600
Color: P3,500
Treatment: P1,300
Hair cut: P390
Total: P8,790
Huge thank you to Crismark and Ms. Grace for taking care of me afternoon!
And to my boyfriend, Tim, for accompanying me and taking my photos that day! :)
And of course, to Vivere Salon for my new look! I've been getting a lot of compliments about my hair :)