Welcomed TenRen's first store in Manila!
Originally from Taiwan, TenRen's Tea has a passion for providing the highest quality of freshly brewed whole leaf teas. Since 1953, tea lovers have found true joy in TenRen's cups of tea in the United States, Australia, Canada, Japan, Malaysia, Singapore, Taiwan, Hong Kong, and now, in the Philippines. Using only fresh ingredients with no artificial flavoring and real whole leaf teas, TenRen's Tea is committed to your most authentic tea experience yet.
Before its grand opening on June 11, 2016, TenRen's Tea invited bloggers to try out some of their specialty teas!
Here's PH owner Allen King talking about his plans for TenRen's Tea in the Philippines.
TenRen's
actually started out just selling loose leaf teas. It was only in 2012 when they decided to open their first tea shop in Causeway Bay, inside a bookstore on the 10th floor of one of the buildings and called it "Cha For Tea To Go."
To date, TenRen's Tea has over 2,000 retail locations in North America, Asia, and the Pacific Rim. They already have 104 Cha For Tea To Go in Asia, and are planning to open 5 or 6 more this year.
TenRen's teas are grown and harvested on their own tea gardens/farms in Taiwan. Everything they sell in-store - teas, snacks (black tea walnut candies, green tea mochi, pineapple cakes, wasabi peanuts, etc), tea infusers, and all other merchandise - carry the TenRen name.
They process each tea using traditional artisanal techniques, ensuring remarkable colour, aroma, and taste.
During the event, we even got to witness a traditional tea preparation ceremony.
And soon after, we got to try them ourselves!
It was a good thing they only gave us small cups for the tea sampling, or else we wouldn't have been able to eat any dinner after.
We started off with the 913's King Oolong Tea and Honey Green Tea.
The
913's King Oolong Tea
is very clean and light tasting. It is made with high-quality oolong tea and ginseng, so it's no wonder it's one of their bestsellers.
The
Honey Green Tea
is simply a sweeter version of green tea. I'm a green tea drinker and I don't usually have mine with honey, but I'm dropping by the grocery soon just so I can make it myself. It probably won't taste as good since I only use a tea bag, but it will have to do until I visit TenRen again.

Next, we had the Black Milk Tea with Pearls.
It's not too sweet, plus the pearls here taste better than the ones I've tried before. Turns out, they are honey-based and not made with sugar syrup to keep that healthy quality that TenRen's known for.
If you can't decide between coffee or milk tea then get the
Coffee Black Milk Tea
.
It's the exact type of coffee I drink (not too strong, but not too sweet either) except this has black tea in it, so it's healthier!
The Kiwi Green Tea is an off-menu offering, so if you're reading this, you should most definitely get this secret drink when you go to TenRen! ;)
If you're not a fan of kiwi, don't worry, I'm not too. I don't think I've actually eaten kiwi before, so I was surprised at how much I liked this. TenRen's only uses fresh fruits and real tea leaves - no artificial flavors here!
The
Green Tea Mango Slush
was one of the highlights that night.
It's like mango shake but with tea and more mangoes AND mango bits! Very refreshing!
Lastly, we had the
Taro Green Tea Latte
.
This one contains real taro bits. I didn't think mixing it with green tea would work, but it did. I like that they didn't mix it too much so you get a bit of taro in every sip!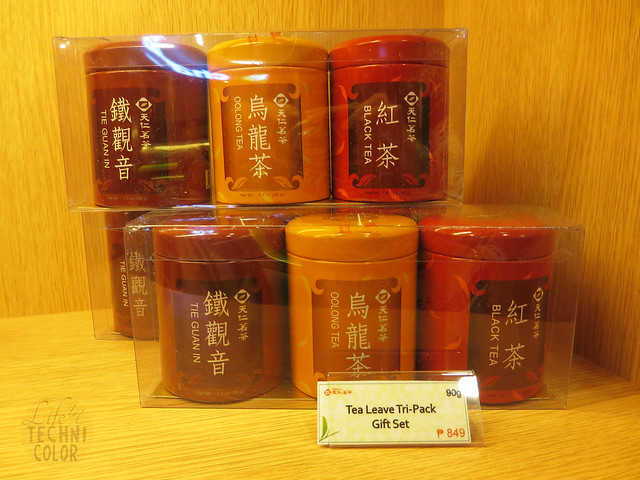 We each went home with a Tea Leaves Tri-Pack Gift Set, so we can experience making our own teas. But unfortunately, I don't have a tea infuser yet! I think I'll drop by TenRen's for one soon.
Thank you, TenRen's Tea, for the invite and congratulations on your grand opening! :)
TenRen's Tea
is located on the second floor of Promenade, Greenhills Shopping Centre, Greenhills, San Juan City.
-
For more food adventures, like and follow Life in Technicolor on Facebook and Instagram!